PV column
Solar Module Quality Assessment Reports
In the past, the quality of photovoltaic modules, the face and symbol of photovoltaic power plants, has been subject to image-based rumors, overblown reports of specific problems, and overestimation of the quality of certain materials, components, and production facilities. Currently, through various third-party evaluation reports, we have established an evaluation system that is not influenced by rumors.
In this column, we would like to provide an overview of the most well-known module evaluation report, the "2022 PV MODULE RELIABILITY SCORECARD" published by PV Evolution Labs (PVEL) of the United States.
Source: https://modulescorecard.pvel.com/
*****
Top Performers
Every year, our Scorecard recognizes manufacturers that produce PV modules with excellent results in PVEL's independent testing.
122 model types from 25 manufacturers are named as 2022 Top Performers for their superior results in PVEL's Product Qualification Program.
Go to Top Performers Page: https://modulescorecard.pvel.com/top-performers/
Resilience of Manufacturers
Manufacturers overcame significant challenges last year, from instability in the raw material supply chain to logistics bottlenecks. Explore examples of resilience from Alex Barrows, Head of PV at Exawatt.
Raw Material Challenges: PV Glass
Shipping Challenges: More Power per Container
Methodology
We use a consistent methodology for testing and ranking PV modules: the Product Qualification Program. Our process helps buyers compare products consistently from year to year and Scorecard to Scorecard.
Our testing goes beyond the model types of PV modules to assess bills of materials. This approach ensures buyers can procure the specific products that we have validated in testing.
Contents of Methodology (https://modulescorecard.pvel.com/methodology/):
PVEL's consistent approach to testing and benchmarking PV module reliability drives data-driven solar procurement and investments for developers, financiers, and asset owners.
Testing Unique Bills of Materials:
Although Top Performers are listed by model type, they represent unique bills of materials (BOMs) that PVEL has tested in our Product Qualification Program (PQP).
Go Inside a PV Module:
Scroll to explore the materials inside a PV module. Click on labels to see how many types of each component were used in the BOMs tested for the 2022 Scorecard.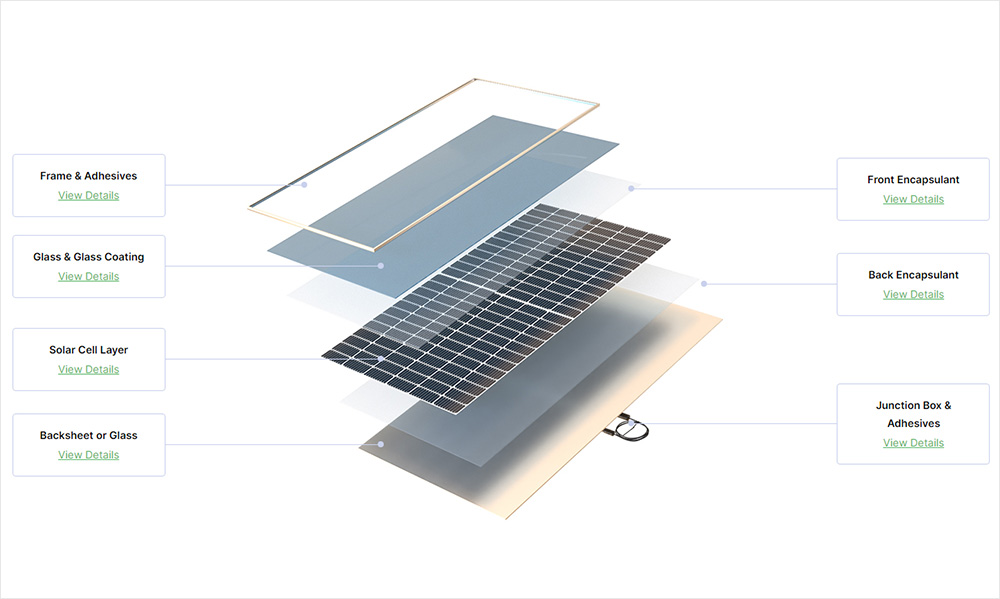 Frame & Adhesive:
Frame
Provides mechanical reinforcement and allows the module to be mounted to racking. Improper frame design can lead to mechanical failure and/or cell damage, decreases power output.
Frame heights tested for this Scorecard: 6
Frame Adhesive
Adheres the frame to the module. Improper frame attachment can increase the likelihood of module damage and/or cell cracks.
Frame adhesive types tested for this Scorecard: 15
Glass & Glass Coating
Front Glass:
Allows light to reach the cell while protecting the module from moisture and impacts. Glass cracks can lead to corrosion and safety issues.
Suppliers tested for this Scorecard: 12
Glass Coating:
A material on the glass surface that increases module efficiency by reducing light reflections. Energy yield decreases when coating deteriorates.
Models tested for this Scorecard: 24
Front Encapsulant
Bonds solar cells to the front surface of the module. Degradation can result in discoloration, delamination and/or corrosion.
Models tested for this Scorecard: 27
Solar Cell Layer
Cells
The cells capture sunlight and convert it to electricity. Failure significantly reduces output power of the module.
Manufacturers tested for this Scorecard: 23
Interconnects
Cell interconnects provide contact between the cells and module conductors. Damage can cause a short circuit and loss of electrical current flow.
Types tested for this Scorecard: >15
Flux
Cleans cell interconnect and the cell surface, allowing proper soldering to occur. Chemical reactions between the flux and other module chemistries can cause solder bond corrosion, leading to power loss and/or hot spots.
BOM data: 14 different flux models were tested for this Scorecard.
Back Encapsulant
Bonds solar cells to the rear surface of the module. Degradation can result in discoloration, delamination and/or corrosion.
Models tested for this Scorecard: 33
Backsheet or Glass
Covers and protects the back of modules. In bifacial modules, a transparent rear surface allows reflected light into the module. Cracked backsheet or rear-side glass can lead to delamination, corrosion, and/or safety concerns.
Types tested for this Scorecard: 34
71% of BOMs used a backsheet; 29% used rear glass
Junction Box & Adhesives
Junction Box
The junction box houses and protects the bypass diodes and electrical terminations between the inner module circuit and external cables. Improper sealing allows moisture and/or debris inside the junction box, which can lead to corrosion and/or electrical failure and fire.
Suppliers tested for this Scorecard: 18
Junction Box Pottant
A gel that seals and protects the inner junction box components.
Poor quality pottant or curing lets moisture into the junction box, which can cause corrosion of the interconnects and junction box failures.
Pottant types tested for this Scorecard: 14
Diodes
Conducts current during module shading to prevent hot spot damage. Failed diodes short circuit 1/3 of the module output or allow hot spots that can create cell cracks and melt module materials.
Suppliers tested for this Scorecard: 23
Junction Box Adhesive
Adheres the junction box to the module. Improper junction box adhesive can allow moisture ingress and safety issues.
Adhesive types tested for this Scorecard: 15
Connectors
The electrical connection point between modules. Connector mismatch or improper installation can cause arcing and fires.
Suppliers tested for this Scorecard: 17
Why BOM-Level Testing is Important
PVEL's test results from the lab and field demonstrate that individual PV module components can dramatically affect product quality. PV modules with the exact same model type can be manufactured from completely different BOMs. Suppliers are free to mix-and-match integral materials – even cells – as long as all the components are listed in the model's IEC certification report.
PVEL's testing generates vital procurement intelligence.
While individual BOMs are not marketed to buyers, PQP reports clearly document the BOMs of each model that performed well in testing. PVEL's downstream partners can leverage PQP reports to specify BOMs in supply agreements.
Who Qualifies for the Scorecard
To be eligible for the Scorecard, manufacturers must have:
Completed the factory witness within 18 months of 2022.
Submitted all modules to all reliability tests.
Submitted at least two factory-witnessed PV module samples per test sequence.
How BOMs are Scored
The 2022 PV Module Reliability Scorecard shows Top Performers for six PQP test categories.
Top Performers are determined by averaging the results of every BOM tested by PVEL that is sold under the same model type. Top Performers in each of the reliability tests appearing in the Scorecard must have < 2% power degradation following the particular test. PAN Performance Top Performers must place in the top quartile for energy yield in PVEL's PVsyst simulations.
PVEL's scoring methodology is consistent over time.
Click here to view past Scorecards.
An example of a module with high levels of degradation is provided for each reliability test, complete with electroluminescence (EL) images and flash test results on each reliability test result page, and visual inspection images where appropriate.
Not all products or model types are represented in every test. Manufacturers with top results can choose not to be listed in the Scorecard. In some cases, test results were not available at the time of publication.
Testing PV Module Reliability and Performance
Empirical Data
The PQP provides empirical metrics for revenue and energy yield modeling.
Standard Processes
The PQP tests all BOMs in the same way with calibrated equipment and in consistent test environments.
No Hand-picked Samples
Auditors witness the production of all test samples and record BOM details.
Regular Program Updates
Test sequence updates provide data on new technologies and manufacturing techniques.
Failures
Summarized and translated by Europe Solar Innovation., Co. Ltd.