PV column
Module Inflation is Now an Established Tendency by Energy Trend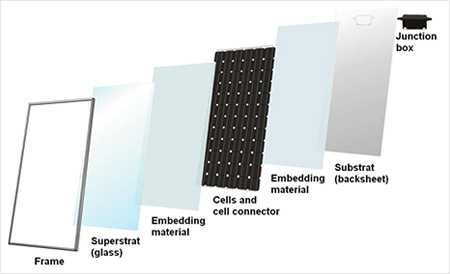 Energy Trend, a TrendForce-owned website dedicated to photovoltaics, published an in-depth article on module prices on May 18, 2022.
The original article is priced in Chinese Yuan and converted at 20.15 Yen per Chinese Yuan for the Japanese market.  (Japanese version only.)  The exchange rate has fluctuated significantly from 15 yen per Chinese yuan (75% of the current market rate) in May 2020 to 17 yen per Chinese yuan (84.4% of the current market rate) in May 2021.
Please see below for this article.
**********
InterSolar Europe was hosted at Munich of Germany on May 11th, where Chinese module makers successively debuted their new products amidst bustling crowds. Europe is vigorously planning for renewable energy development recently due to the impact sustained from the Russia-Ukraine war. Statistics of customs indicate that China had exported more than 16GW of modules to Europe in the first quarter of 2022, and TrendForce's projections denote that Europe is likely to arrive at 49GW of PV installations throughout 2022, which surpass the previous expectation by a great margin. Businesses have achieved exponential growth in profitability and thriving development since the start of this year amidst constantly rising polysilicon prices, while downstream cell businesses and module makers have been sustaining a heavy burden, with some of them experiencing an increase of revenue but zero increment in profit, while a segment of these businesses have even suffered losses. The allocation of profitability can be said as prominently differentiated within the industry. Upstream polysilicon businesses, despite incessant expansion, are cash-strapped in the face of such thriving market demand, with potential room for price increment, while the elevation of auxiliary material prices is also inflicting difficulties to module makers. Under such development, module prices are inevitable in inflation.
Polysilicon Prices to Continue to Climb amidst Supply and Demand Mismatches
Module Inflation Falls Short to Upstream Sector's Ferocious Price Increment
Module Profitability Subsides Alongside Drastic Increase of Production Cost
Inflation Tendency now Established for Modules under Easy Revenue Inflow and Impeded Profitability
Module Cost Disassembly (Using 545W Single-Sided Glass as Example; Measurement: 2256 * 1133 * 35mm)